---

Born in September 1947;living in Ljubljana; married, one daughter, one grandson.
Education and profession: University graduated jurist; over 33 years of experience on organization and human resources; retired since July 2004
Hobbies: illustrations, photography, walking, mountaineering, swimming, travelling

Writing haiku since 1999 (also lyrics); the president of the Haiku Club of Slovenia and the member of its Editorial Committee for "Letni casi"/"Seasons", the journal of the Club; co-editor of Aozora (web site of South-East Europe); a member of WHA (editor for Slovenia); a member of WHC

Prizes:
Apokalipsa Contests: 2000 (3rd prize), 2001 (prize for the best cycle), 2003 (2nd prize)
Courage Award 13th ITOEN 2002
Special Prize 4th HIA 2002
international Special merits and Honorable mentions.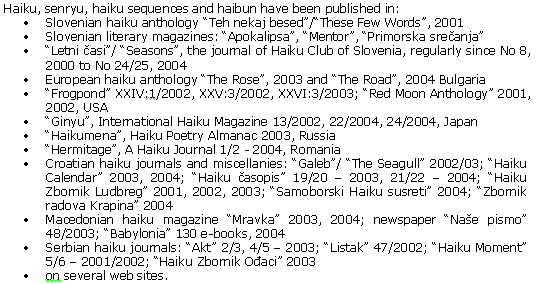 Her first haiku book "Metulj na rami"/"Butterfly on the Shoulder"
has been published recently by Apokalipsa Press, Slovenia.
---

child's eyes
roll to the ball
in the shop-window

dry laundry-
the fish-pattern towel
still damp

hot evening -
his breath
the only breeze

a ladybug
on my red blouse --
almost invisible

wild wind -
my palms too small
to hold the falling leaves

braking the bus
brings me closer
to a stranger

wet street -
careful steps
over lit windows

church stairs --
in the bottle of a beggar
morning light

after the quarrel
the sound of rain fills
the emptiness between us

autumn forest --
step by step
whisper by whisper
---
Poetry page 2
---
Author: Alenka Zorman
Editor: Alenka Zorman
Translator: Alenka Zorman

Credits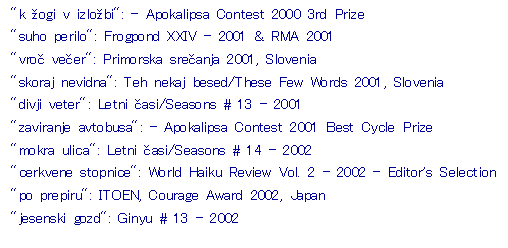 ---
Revised
Copyright © 2001 World Haiku Association.
All rights reserved.

All poetry the copyright of the author.
All translations the copyright of the translator.
---
WHA home