Ljerka Postek Jelaca

---

| | |
| --- | --- |
| no email address | Croatian |
| | |
| No personal website | Croatia |


Ljerka Postek Jelaca was born in Ivanic Grad, Croatia, in 1944 where she lives. She is a retired accountant. Beside haiku she writes poetry and paints. Her haiku has been published in haiku magazines and miscellanies in Croatia (Samobor, Krapina, Ludbreg, Zagreb, Klostar Ivanic) and abroad. She received several prizes. Her haiku was published in common haiku collection 'Seven Windows', Ivanic Grad, 2002. Ljerka is a member of Haiku Association 'Three Rivers', Ivanic Grad and The Association of the Croatian Haiku Poets, Zagreb.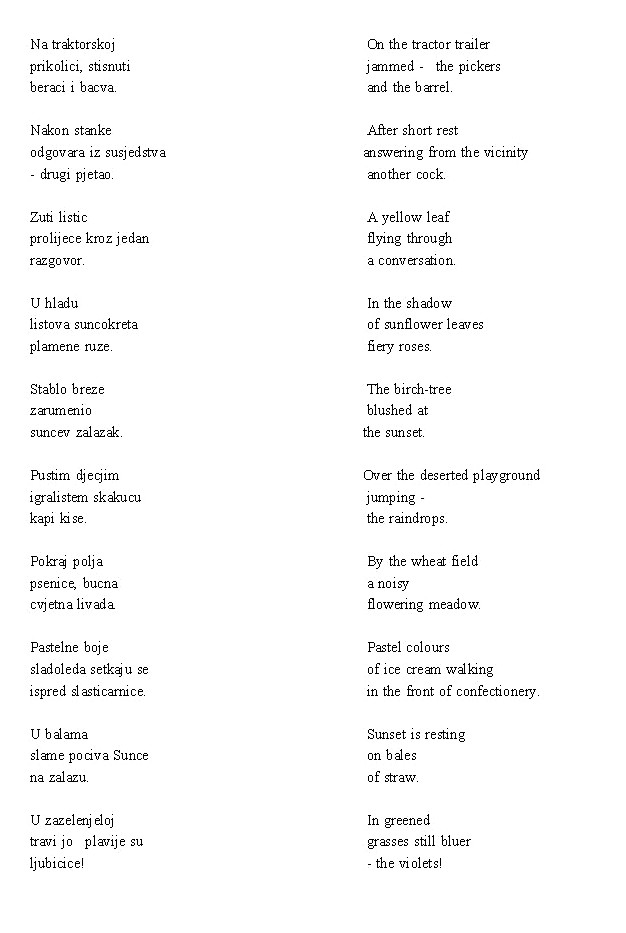 ---
---
Author: Ljerka Postek Jelaca
Translated and edited by D.V.Rozic

Credit;
Na traktorskoj / The 1st Prize, The Klostar Ivanic Haiku Contest, 2003 U hladu / The 3rd Prize, Kusamakura, 2000. Nakon stanke / 7th Dubravko Ivancan Haiku Day, Krapina 2005. Pustim djecjim / Commendment, The Klostar Ivanic Haiku Contest, 2003 Pokraj polja / Samobor Haiku Miscellany, 2006. Pastelne boje / Ludbreg Haiku Miscellany, 2005. U balama / Commendment, ITOEN 2001. U zazelenjeloj / HAIKU, Zagreb, Croatia, 2004.
---
Revised
Copyright © 2001 World Haiku Association.
All rights reserved.

All poetry the copyright of the author.
All translations the copyright of the translator.
---
WHA home